Outlander PHEV 10,000 Free Green Miles
Posted on
2 February 2020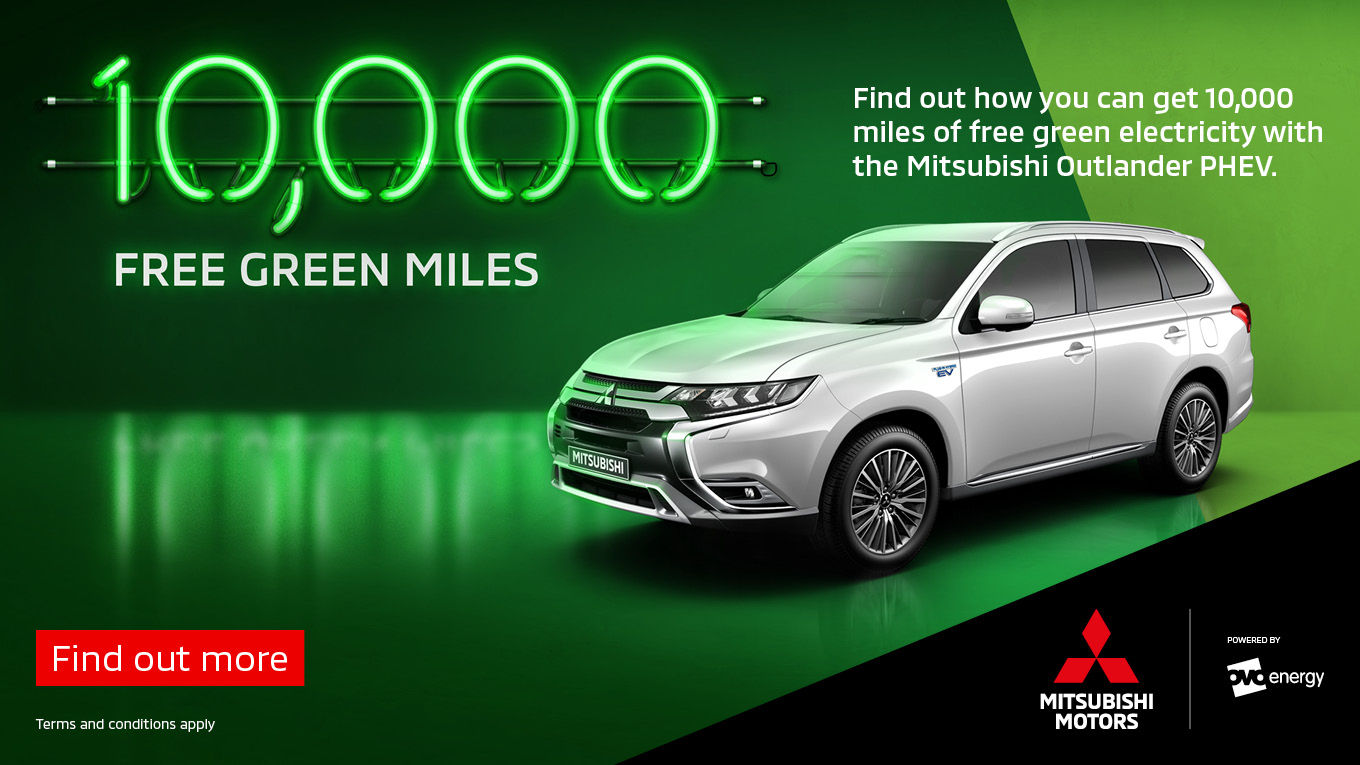 Customers who purchase a new Mitsubishi Outlander PHEV can now enjoy 10,000* miles of free, green, electric motoring provided by OVO Energy.
Retail customers who order and register a new Mitsubishi Outlander PHEV between February 1 and March 31 2020 can avail themselves of 10,000 miles of electric motoring if they switch their domestic supply to OVO Energy's EV Everywhere bundle*, bringing them on the journey to zero-carbon living.
To ensure a consistent supply of free green electricity, customers will receive £20 each month into their OVO Energy account for the 24 month duration of the offer, encouraging customers to fully exploit the Mitsubishi Outlander PHEV's electric range of 28 miles (WLTP) - more than enough for the average daily commute of 20 miles to and from work!*
In addition, customers can choose a charging solution that works for them, with either a free OVO Smart Charger or Polar Plus membership included as part of the OVO Energy EV Everywhere bundle.
This is the first initiative borne from the collaboration between OVO Energy and Mitsubishi Motors in the UK, two companies that share similar ambitions to drive sustainability and promote the decarbonisation of transport in the UK.
Travelling 10,000 miles in "Electric Vehicle mode" represents a 1,610 tonne reduction in tailpipe CO2 emissions compared to driving a car that produces 100g/km of CO2, while also reducing noise and pollution in urban areas and stop-go traffic, where combustion-engine vehicles are at their least efficient.
If you would like to learn more about the Outlander PHEV or if you would like to book a 24 hour test drive in the world's best-selling plug in hybrid, click here
To learn more about this fantastic offer, please click to visit the OVO Energy website
Terms and Conditions
10,000 miles of free charge available on the purchase of a new Outlander PHEV model when you switch your energy supply to the Ovo EV Everywhere tariff.
The vehicle must be registered between 1st February 2020 and 31st March 2020.
This promotion is in conjunction with Ovo's EV Everywhere energy tariff to which you must sign up to in order to claim this promotion.
Offer available at participating dealerships and to retail customers only.
Offer excluding the Commercial variant, and is only available in mainland UK.
Subject to availability, while stocks last and may be amended or withdrawn at any time.
Fuel economy and CO₂ figures shown were obtained using a combination of battery power and fuel. The Outlander PHEV is a plug-in hybrid vehicle requiring mains electricity for charging. Figures shown are for comparability purposes. Only compare fuel consumption and CO₂ figures with other cars tested on the same technical procedures. These figures may not reflect real life driving results, which will depend upon a number of factors including the accessories fitted (post-registration), variations in weather, driving styles and vehicle load. *There is a new test used for fuel consumption and CO₂ figures. The CO₂ figures shown however, are based on the outgoing test cycle and will be used to calculate vehicle tax on first registration.